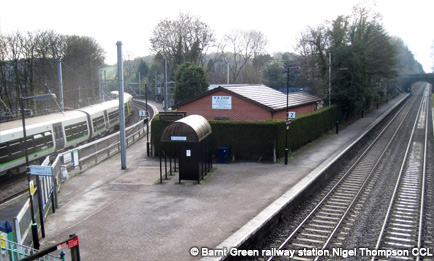 Barnt Green railway station serves the small village of Barnt Green in the Bromsgrove district of Worcestershire.
The unstaffed station is served by West Midlands Railway on the Cross-City Line South some 9 miles southwest of Birmingham New Street. It sits at the head of the Alvechurch/Redditch branch-line, and on the Birmingham-Bristol mainline. Most services are local to Redditch and Bromsgrove though there are peak time services to Worcester and Hereford.
Level access is available to Platforms 1 (Birmingham direction but limited service) and 4 (Redditch bound). Slope access from Helwell Lane to Platforms 2 & 3 but it is not suitable for wheelchair users without additional assistance.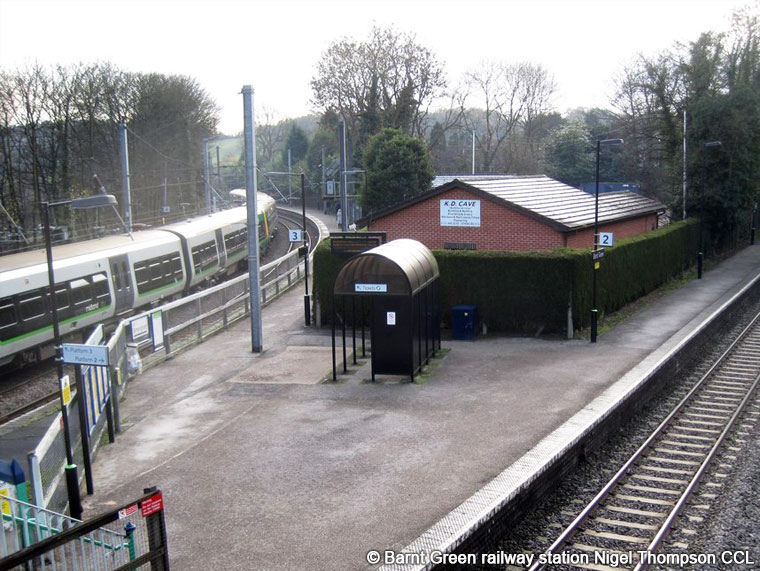 June 2020: WMR is allowing existing station adoption groups to return to work at WMR stations, and is encouraging new groups to be formed once more. For further information please contact friends@wmtrains.co.uk
It is hoped that the station will be adopted by a group formed under the umbrella of the Barnt Green Parish Council.
Among the supporting organisations could be the St Andrew's CE First School which is at the bottom of the station approach. One project could be a local history film involving the school children.
Why not join us?
If you would like to be involved with your local station, then do get in touch below.
Get Involved
BARRUP, the Bromsgrove And Redditch Rail User Partnership, is represented on the Steering Group of the CRP.
The local representative for the station for Community Rail matters is Tony Woodward.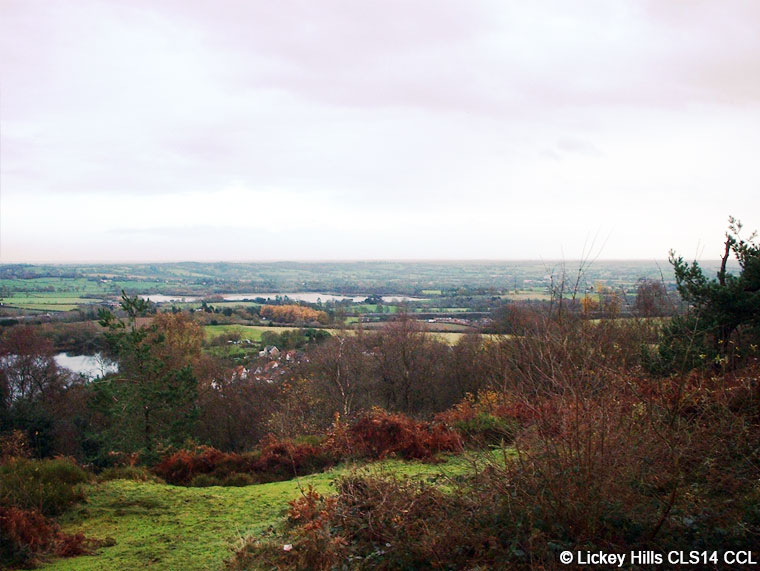 A view from Bilberry Hill, Lickey Hills Country Park
3rd Party Websites Disclaimer
Please note links to other third party websites are used to provide further information, and are not intended to signify that WCRP endorses such websites and/or their content.
Links to external, or third party websites, are provided solely for visitors' convenience.
Links taken to other sites are done so at your own risk and WCRP accepts no liability for any linked sites or their content. When you access an external website, keep in mind that WCRP has no control over its content.
Occasionally these links can be changed by the 3rd party, please let us know if you notice one.