Wychavon residents are invited to take part in a fun and free cycling event at Westlands Community Centre next month.
Wychavon have joined forces with Worcestershire Community Rail Partnership and the Community Rail Network's "Integrated Sustainable Transport in Community Rail Fund".
Wheels 2 Rails, which runs between 10am and 3.30pm on Saturday 26 February, is encouraging safer cycling for adults and children.
The event features two-hour family cycle training sessions led by a qualified Bikeability instructor, starting at 10am and 1pm.
The sessions are designed to build cycling confidence in different situations, such as heading out on local roads or to the railway station.
Wheels2Rails includes safety check drop-in sessions, and the chance to get your bike security marked, so it can be tracked if it's stolen.
Cyclists can also test their pedal power, and earn a tasty reward, on the GreenApe smoothie bike.
Places are limited, so sessions must be pre-booked at:  https://wheels_to_rail_droitwich.eventbrite.co.uk
Cllr Tony Rowley, Executive Board Member for Climate Change, Environmental Policy and Regulatory Services on Wychavon District Council, said: "We are excited to see the return of Wheels2Rails, which helps cyclists to build their confidence with the support of a qualified instructor."
Colin Major, Vice-Chair of Worcestershire Community Rail Partnership, said: "We are proud to support these events and see our local railway stations continue to provide a safe venue for families to enjoy cycling."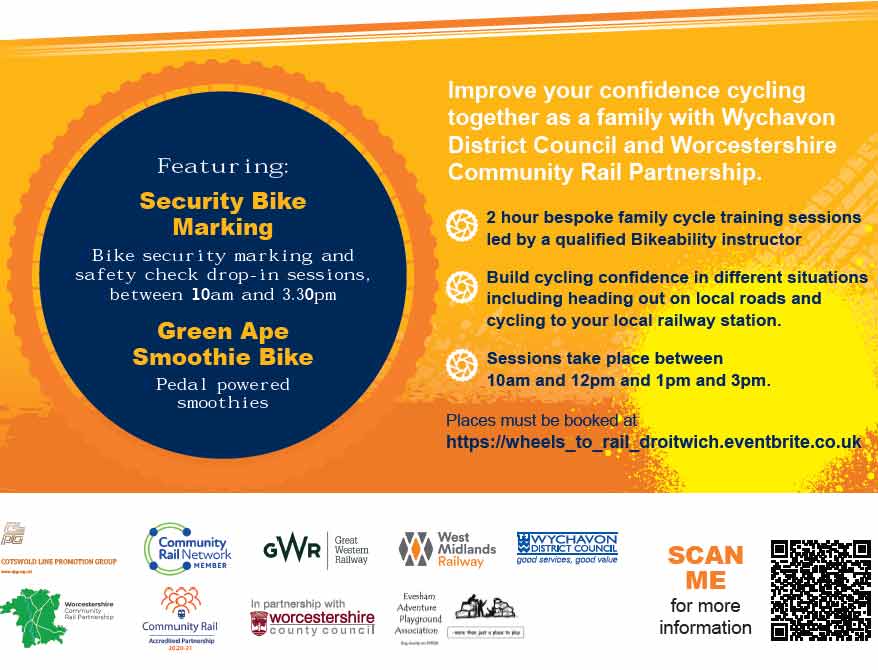 Naming the Lines Competition – Results 
Stitch Train Tapestry Project
Worcestershire CRP Mailing List
Thank you for your interest in the Community Rail Partnership.
We look forward to you joining in out activities.