Pershore station serves the unspoiled, picturesque market town of Pershore in the Wychavon district of Worcestershire.
It is famed for its elegant Georgian architecture and magnificent Abbey. Surrounded by beautiful countryside and picturesque villages this lively town is a haven for cyclists and ramblers.
The unstaffed station is situated on the Cotswold Line between London and Hereford. It opened in 1852. In 1954 John Betjeman wrote his poem: Pershore Station or A Liverish Journey First Class, a copy which, courtesy of the Pershore Civic Society, is displayed at the station.
Nowadays there is a single platform with basic waiting shelters. The current operator is GWR (Great Western Railway).
Level access is available to the platform.
The station gardens and planters on the platforms have been looked after for many years by a volunteer. The Cotswold Line Promotion Group actively promotes the use of the station and of the services which run from it.
Links with the volunteers from the National Gardens Scheme may be possible.
Why not join us?
If you would like to be involved with your local station, then do get in touch below.
Get Involved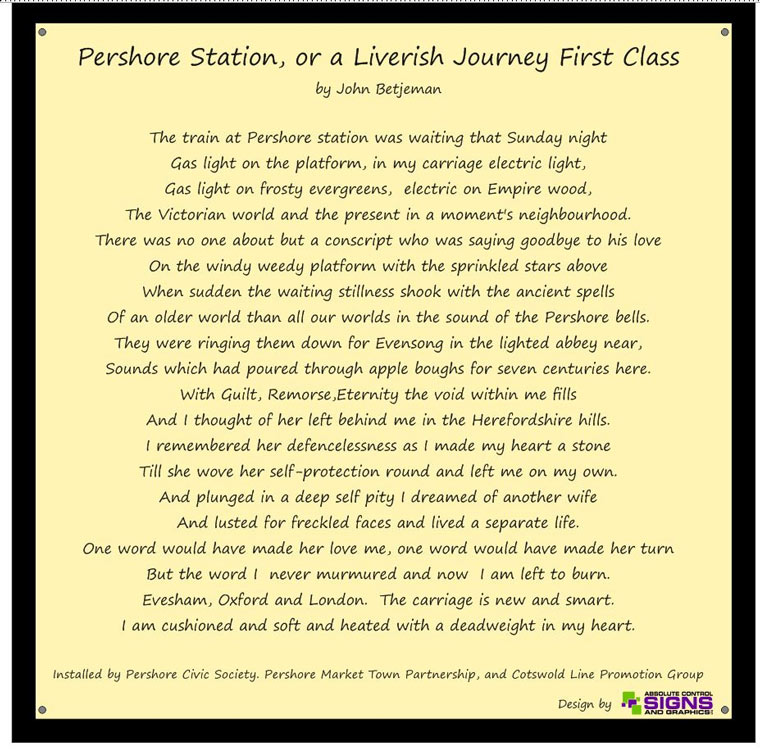 Pershore Station poem by John Betjeman
Transport links

Astons Coaches 564 & 565 Pershore – Pershore circular via Inkberrow and Elmley Castle
N N Cresswell R2 Pershore – Redditch Mondays only
Dudley's Coaches 384 Pershore – Abbots Morton Wednesdays only
LMS Plum Line 566 from Pinvin to Pershore High Street Monday to Saturday
All the above services stop on the main road outside the station. Other bus routes run from the town centre (30 mins walk away)
Businesses local to the station
Spar shop (P J Nicholls garage) Pershore Terrace, Pinvin
Co-op – Racecourse Road
There are many more businesses in the town itself (around 30 minutes walk from the station)
Tourist destinations within reach of the station
Lower Moor Watersports Centre (50 min walk)
Pershore Plum Festival (August)
3rd Party Websites Disclaimer
Please note links to other third party websites are used to provide further information, and are not intended to signify that WCRP endorses such websites and/or their content.
Links to external, or third party websites, are provided solely for visitors' convenience.
Links taken to other sites are done so at your own risk and WCRP accepts no liability for any linked sites or their content. When you access an external website, keep in mind that WCRP has no control over its content.
Occasionally these links can be changed by the 3rd party, please let us know if you notice one.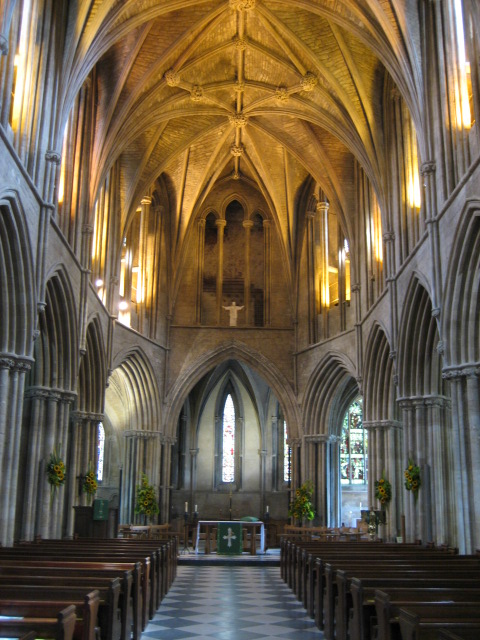 Pershore Abbey (courtesy of Pershore Civic Society)