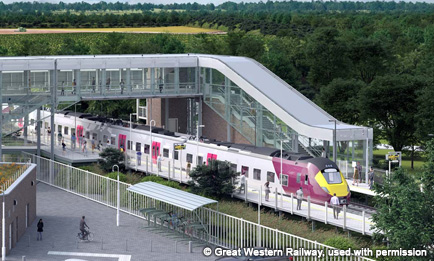 Welcome to the WCRP
Building links
within the County of
Worcestershire
Embedding stations within the communities that they serve
Working with communities to enhance their local stations
Engaging communities in Worcestershire with their stations
Worcestershire Community Rail Partnership has been established to enable local communities to work with the three Train Operating Companies to improve the 18 stations within the County.
What are the benefits?
Engage with communities to improve station facilities and encourage support for rail use.
Encourage Station Adoption Groups to enhance station environments and build local pride in the facilities.
Improve station accessibility through sustainable travel plans.
Support links between the stations and local businesses.
Current partners are the Cotswold Line Promotion Group, Cross Country Trains, Great Western Railway, West Midlands Trains, West Midlands Rail Executive, Worcestershire County Council, the Stourbridge Line User Group, and the Bromsgrove And Redditch Rail User Partnership.
Get involved with your local railway through the new Worcestershire Community Rail Partnership (CRP)
Communities, businesses and tourist attractions are all invited to work with the rail industry and local councils to promote rail services across Worcestershire.
It's great for residents too
Community rail is a great way of inspiring residents of all ages and walks of life to get involved in making their local railway station a great and attractive place to be.
This can include activities such as gardening projects, art displays and using station buildings for a range of events.
Participation can promote social ties and give local communities a sense of pride and ownership in their local station.
18 Stations can be adopted
WCRP covers a diverse and unique mix of eighteen stations including Great Malvern, Worcester Stations, Droitwich Spa, Kidderminster Hagley and Bromsgrove and Pershore, Evesham and Honeybourne on the North Cotswold Line. The brand new Worcestershire Parkway station is now open. It is a split-level railway station, where the Cotswold and Cross Country lines cross near Norton, Worcester. The station is fully accessible, with a lift to support access to all three platforms.
How can an individual be involved?
Follow the menu links to discover what is planned for your local station.
You can also find the contact person for the local community group which has adopted it.
For more general information, and to be added to the Worcestershire CRP mailing list contact Peter Chapman, the Partnership Community Rail Officer.
Our 18 Stations

COTSWOLD LINE
Honeybourne
Evesham
Pershore
Worcestershire Parkway
Worcester Shrub Hill
Worcester Foregate St
Malvern Link
Great Malvern
DROITWICH SPA TO HAGLEY
Droitwich Spa
Hartlebury
Kidderminster
Blakedown
Hagley
BROMSGROVE TO REDDITCH WITH WYTHALL
Bromsgrove
Barnt Green
Alvechurch
Redditch
Wythall