The Cotswold Line runs between Oxford and Hereford with services provided mainly by GWR. Within Worcestershire, the line has stations at Honeybourne, Evesham, Pershore, Worcestershire Parkway, Worcester Shrub Hill, Worcester Foregate Street, Malvern Link, and Great Malvern. The line is promoted by the Cotswold Line Promotion Group (a founder member of the Worcestershire CRP).
The line provides InterCity services between Great Malvern, Worcester and Evesham to Oxford, Reading and London as well as commuter services into Worcester. From a visitor viewpoint, it gives access to the Malvern Hills, the historic city of Worcester, and the market towns of Pershore and Evesham. The station of Broadway on the Gloucestershire & Warwickshire Railway is in Worcestershire and can be reached by bus from Evesham.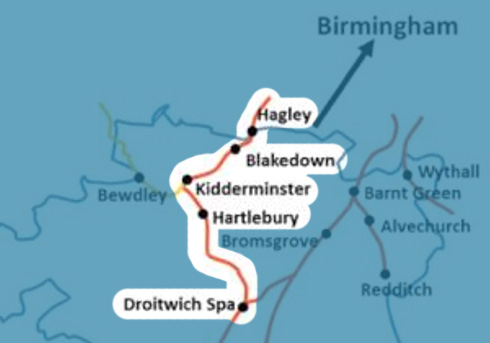 The line from Droitwich Spa to Hagley forms part of the route from Great Malvern through Worcester to the West Midlands. Services are provided by West Midlands Railway. The five stations within Worcestershire are Droitwich Spa, Hartlebury, Kidderminster, Blakedown, and Hagley.
The interests of rail users of the route are promoted by the Stourbridge Line User Group (SLUG), a founder member of the CRP.
The line is mainly used for commuting into the West Midlands and to Worcester. However, it gives access to the historic spa town of Droitwich, and to the bustling town of Kidderminster which is the home to the Severn Valley Railway. Apart from its own station alongside the National Rail station in Kidderminster, the SVR also has Worcestershire stations at Bewdley and Arley.
Bromsgrove to Redditch with Wythall
The line from Bromsgrove to Redditch via Barnt Green is part of the CrossCity South commuter network in the West Midlands (the stretch from Bromsgrove to Barnt Green also carries regional services from Hereford to Birmingham New Street). Services are provided by West Midlands Railway. The four stations on the line are Bromsgrove, Barnt Green, Alvechurch, and Redditch. The interests of rail users are looked after by the Bromsgrove And Redditch Rail User Partnership (BARRUP), a founder member of the CRP.
Both the CrossCity South have large commuter traffic as well as significant off-peak travel loadings. Key features of the routes are the Lickey Incline from Bromsgrove to Barnt Green, access to the Lickey Hills from Barnt Green, the canal features at Alvechurch, and the needle manufacturing history of Redditch. View our video of the Barnt Green to Redditch line.
Wythall sits on the 'Shakespeare Line' which runs from Birmingham to Stratford upon Avon. All the stations on the line have been adopted by the Friends of the Shakespeare Line.
Worcestershire Line Guide
Read how the railways in Worcestershire have developed over the last 180 years on this page here. 
You can also download a PDF version
of the same guide here.