Wythall station serves the village of Wythall in the Bromsgrove district of Worcestershire.
This small village has numerous 18th century buildings at its heart along the Alcester Road. The station is a 20 minutes walk from the centre of the village in the Grimes Hill area of the civil parish.
The station is unstaffed and is served by West Midlands Railway on the Shakespeare Line from Birmingham Snow Hill to Stratford-upon-Avon. Originally opened as Grimes Hill Platform in 1908, it has had three changes of name before finally becoming 'Wythall' in 1974.
It is the only station in Worcestershire to which West Midlands Network rail and rail / bus / metro day and season tickets are valid.
Ramp access is available to both platforms but wheelchair users may need assistance due to their gradients.
Why not join us?
If you would like to be involved with your local station, then do get in touch below.
Get Involved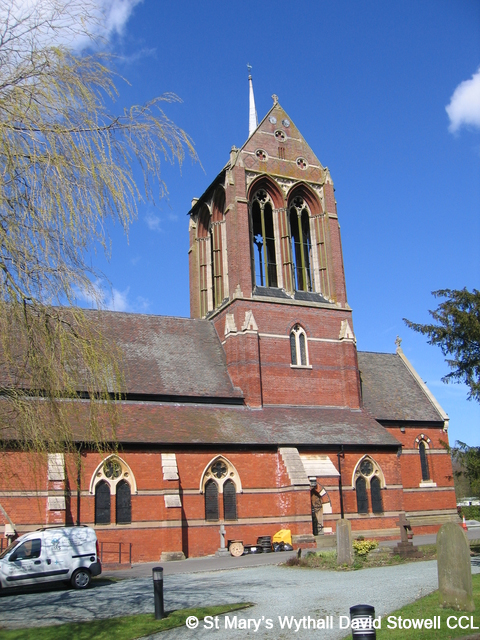 The former church of St Mary Wythall
Transport links
Landflight A4 Solihull – Inkford Brook passes the station entrance
Businesses local to the station (selection only)
Select and Save
There are more businesses in the village itself (around 20 minutes walk from the station)
Tourist destinations within reach of the station
The Transport Museum Wythall (served by the A4 bus but not on Sundays)
The former church of St Mary Wythall (Grade II listed – not open to the public)
3rd Party Websites Disclaimer
Please note links to other third party websites are used to provide further information, and are not intended to signify that WCRP endorses such websites and/or their content.
Links to external, or third party websites, are provided solely for visitors' convenience.
Links taken to other sites are done so at your own risk and WCRP accepts no liability for any linked sites or their content. When you access an external website, keep in mind that WCRP has no control over its content.
Occasionally these links can be changed by the 3rd party, please let us know if you notice one.
Clowes Wood and Terry's Pool from Wythall Station
5.5 mi/2.5 hrs Average 82 ft ascent
A walk starting from and returning to Wythall Station, with opportunities to explore further.
Fifty species of birds breed here in Clowes Wood and New Fallings Coppice. Wildflowers to be seen include bluebell, lily of the valley, cow-wheat, and bilberry.
The Earlswood Lakes were constructed in the 1820s to provide water to the Stratford upon Avon canal. The labour force included prisoners of war from the Napoleonic wars.