Our Worcester Access Map is now available.
The map contains information on the best walking, wheeling, cycling routes for people with hidden and visible disabilities.
It is available either as a download from our website or as a printed copy.
We hope the map will encourage Worcester visitors to use sustainable forms of transport – such as rail – to both access, and move around, the city.
It has been created by WCRP with funding from GWR. We worked in partnership with the University of Worcester and Gloucestershire Community Rail Partnership (GCRP) to produce a valuable resource for visitors to the city.
Students from the University received training and guidance from GCRP on how to walk the routes collecting data which was sent to the designer for input onto the map.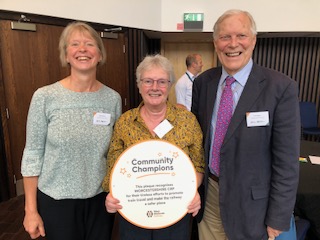 Community Champions Award 2023
WCRP is delighted to receive an award from WMR for our work to keep young people safe in Worcestershire. Our film 'Which side of the Tracks' has inspired partners to create a range of resources to help schools, train operators and youth workers prevent children being exploited by criminal gangs.
WCRP took part in a Safer Communities Day at Christopher Whitehead Language College and Sixth Form earlier this year where the film was shown to 250 pupils followed by discussion on the main themes. Platform, our rail education scheme, also offer classroom based activities on their website here platformrail.org/resources/which-side-of-the-tracks.
WCRP Vice Chair, Colin Major said "I am delighted that this collaborative work between the West Midlands Safer Travel Team, West Mercia Police and West Midlands Railway lead by our WCRP Partnership Officer Fiona Saxon has been recognised. The video is available to anyone who can alert young people to the dangers of County Lines and to assure them that help is available."
Two more Line Guides have just been released.
There are now four line guides for you to use.
Why not download these to explore these lines and discover great places to visit?
Students develop new concept designs for Worcs Rail Trail Projects – June 2023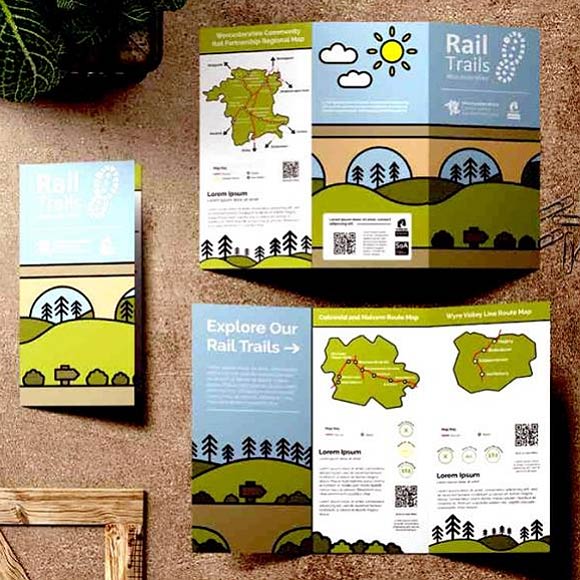 Student Designs - Worcestershire Rail Trails Project
A unique collaboration between students at the University of Worcester, a regional railways community development organisation and the Worcestershire Ramblers has just produced its first set of concept design work.

Year 2 Graphic Design students on the 'Graphic Information Design' module have just submitted a wide range of concept designs for an overview leaflet for Worcestershire Community Rail Partnership (WCRP). This explains the new 95 mile long 'Worcestershire Rail Trails' project, which allows users to walk between stations in the region and then return quickly by train to their start point. One or more students' designs will be picked for use for marketing the scheme.
Students were set the 'live' brief in early February by Rail Trails project team members Lyndon Bracewell (instigator of the project and representing Worcestershire Ramblers) and the University of Worcester's Senior Lecturer in Graphic Design, Andy Stevenson. The aim was to give students experience of working to a 'live' design brief of this nature along with the pace, interaction and steer of real clients including WCRP's Partnership Officer Fiona Saxon.
Norwegian visiting Yr2 graphic design student Marie Oye said of her experiences on the project: "This was a relatively new area of experience for me, as I had not previously designed a walking routes leaflet before however I gained new skills during the project, including adapting my design to fit the project's requirements and balancing the visuals with the necessary information."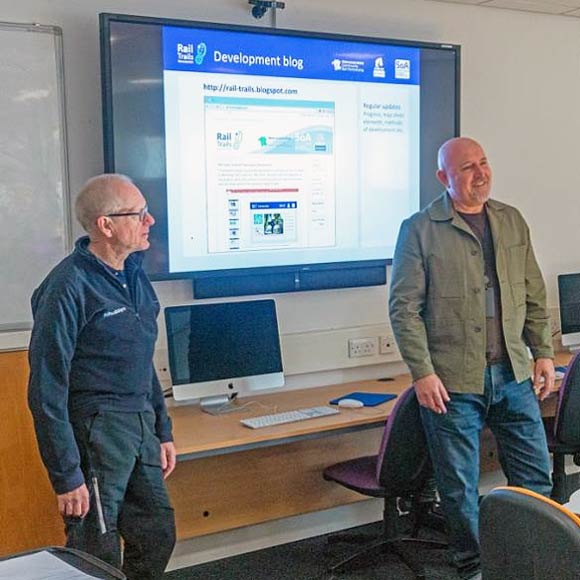 Presentation by Andy and Lyndon
"In class, I found the learning to be very helpful and engaging. I appreciated the opportunity to receive feedback from my tutor Andy, the client Lyndon, and my classmates. I also found it helpful to do additional research and visit museums and galleries outside of class to gain inspiration and refine my design skills. …Overall, I feel that I learned a lot during this project and developed new skills in information design and layout. I look forward to applying these skills to future projects".
Rail Trails project instigator and steering team member, Lyndon Bracewell, said: "I was impressed by the students' skills and enthusiasm. It was very much a two-way process. I learnt a lot about how younger people access and use information through various digital means. Hopefully the way we have presented the Rail Trails in an entirely web-based and smart phone friendly format will help to broaden the Trails' appeal to a younger audience too".
Senior Lecturer in Graphic Design Andy Stevenson added: "There's nothing quite like working on a real-life design project for our students and on this module they were able to apply their new-found skills in developing information graphics and mapping.
While we run student briefs in other modules in lots of areas of the design genre: such as web design, branding and packaging, this module brief also helped students equip themselves for studio working experiences that require wider visual communication skills: diagram design, wayfinding design considerations, pictogram design and how to create linked maps – a form of information diagram. It's also been great to work alongside a community organisation and know that the new learning and outputs from students have helped give much-needed visual
design input into this project."
Design Student with Lyndon
WCRP's Partnership Officer, Fiona Saxon, has been impressed by the students' creativity and enthusiasm for this project and adds: "The ideas and application by the students has been amazing and it's been fabulous working with future designers on a venture that offers tried
and tested linear walks from stations. It provides walkers with opportunities to use sustainable rail travel to access some of the best destinations in the country right here in Worcestershire."
The Worcestershire Rail Trails project is currently developing its initial web presence and has recently hosted a 'Taster' day at the Hive in Worcester on Sunday 11th June. We are now focussing on the serious business of choosing one or more 'winning' student designs on which to base the final overview leaflet.
Once a final design(s) is chosen this will then be created in full for commercial print. This successful Knowledge Transfer collaboration will then continue into the next academic year to complete remaining components of the project.
Rail Trails – October 2022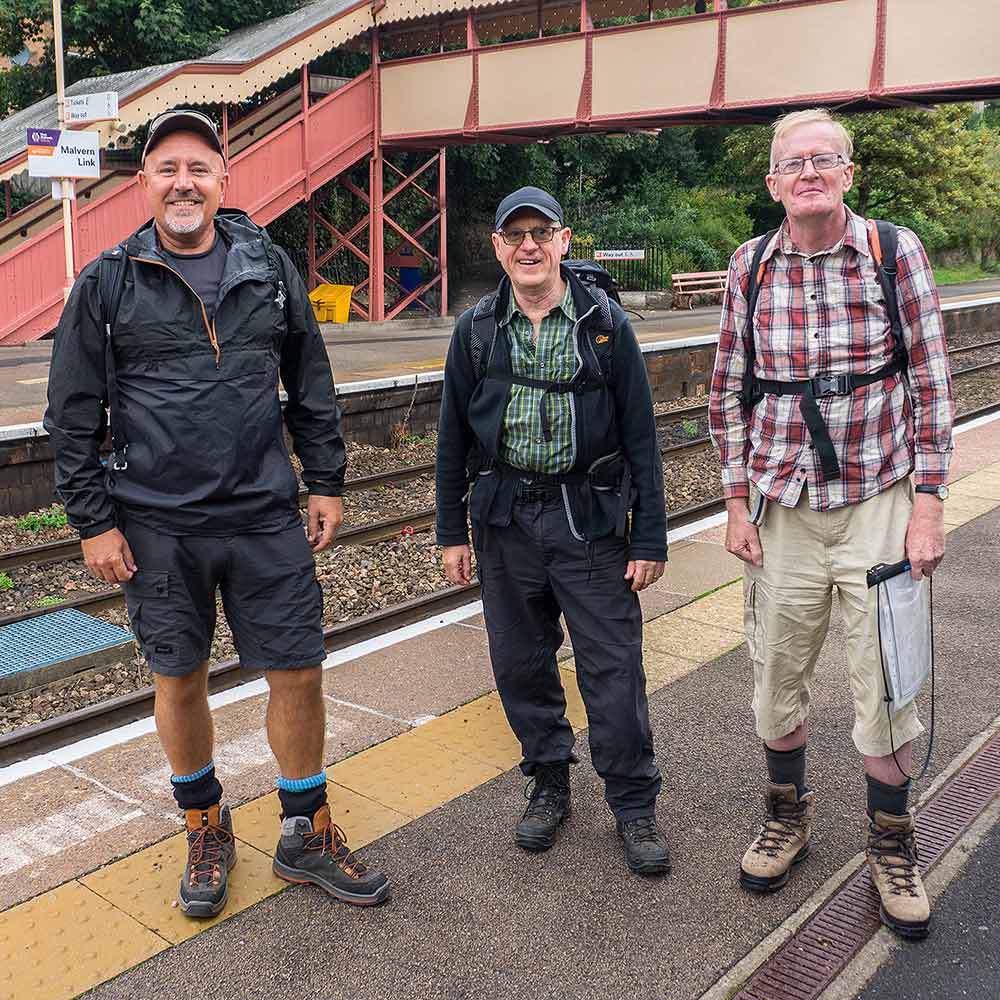 Key figures in the Worcestershire Rail Trails project
A new collaboration to help develop a set of 'Rail Trails' in the region has begun between the Worcestershire Community Rail Partnership, the Worcester Ramblers and a University of Worcester academic.
The trails are walking routes that link railway stations. The idea is that the public either walk a stretch of new path and come back to the start point on the train or do it the opposite way round.
The trails will be developed utilising the existing knowledge of the area's walking routes supplied by Worcester Ramblers' Lyndon Bracewell, the walking guide design and mapping expertise of the University's Graphic Design Lecturer, Andy Stevenson, and the funding support of the Worcestershire Community Rail Partnership.
The team – who all work part time on the project – have been developing, assessing and testing the individual walks to be involved in the project's first phase while also evolving a visual identity that will now percolate through all further project outputs.
William Whiting, Chair of Worcestershire Community Rail Partnership, said: "I am very excited to promote linear walks trails from stations in Worcestershire. Many other areas of the country have walks from stations as a way of encouraging use of local rail services and at the same time promoting healthy lifestyles. As a keen walker I believe the best way to see the countryside is by walking and these rail trails will provide the opportunity to explore some lovely parts of Worcestershire."
The first phase is a 42-mile-long walking trail linking all 8 stations on the Worcestershire section of the 'Cotswold Line' between Great Malvern and Honeybourne. Further phases will link Worcester to all stations in the north of the County.
Lyndon Bracewell of Worcester Ramblers is developing and checking the routes with the help and local knowledge of other local members as well as the County Council's Public Rights of Way team.
"I was keen to find a way to encourage more people to explore the County's wonderful countryside and in a healthy and sustainable way," he said. "Providing walking opportunities using the existing local rail network was an ideal way of achieving this. Even though I already knew the area quite well, I've been really surprised at how scenic and interesting the routes are."
The team is aiming to have an initial tranche of outputs ready as downloadable pdf guide sheets and corresponding GPX files that can be used on walking apps in the New Year.
Senior Lecturer in Graphic Design at the University, Andy Stevenson, said: "This is a lovely 'live' collaboration between local organisations that fits with the Graphic Design course's initiative to evolve 'Design for community good' where we aim to support charitable or community organisations with our various skillsets. In addition, this project's aims, and outputs are also allied to some of my own research interests within my part-time PhD studies. As such it's also an example of how ongoing research in the design and visual communications area at the University can provide practical help via knowledge exchange projects within the community too."
A new development blog helping to document the project's progress has also been developed and this can be seen at rail-trails.blogspot.com
New book now available
The Hills and Beyond by Train
– The Malverns & Herefordshire 
We have been working with Beyond the Hills Community Station Partnership on a book about the Malvern Hills and we are delighted to announce that it's now available.
The Hills and Beyond is a collection of essays offering the reader an insight into the diversity, geography and history of the hills and towns.
It is an eclectic collection of writings for the discerning traveller by train through this beautiful and historic part of central England leading into the Welsh Marches.
It can be used as a companion guide when travelling both to and through the region by train.
You can download a free copy of the PDF version of this book by using this link:
Download the Hills & Beyond book PDF here
WCRP welcomes new partnership officer

Fiona Saxon has taken up the role of Worcestershire Community Rail Partnership Officer following her predecessor's retirement. She has been involved with engagement work for over 20 years, working with business, communities, charities and tertiary education to facilitate partnerships and enhance community involvement. Fiona has worked for diverse industries such as shipbuilding, banking, electronics and with government and the voluntary sector. This has provided her with an insight into many different working practices and objectives.
Fiona believes wholeheartedly in life-long learning and has recently completed a BA in History after taking time out of the workplace to fulfil a long held ambition.
She is particularly keen to bring railway stations into the heart of the communities they serve providing opportunities for residents to take ownership of the area they live in and thus help to shape their future while promoting sustainable travel.
Working with residents, volunteers, stakeholders and rail and station staff, Fiona will support them to create environments that are welcoming, vibrant and conducive to regeneration. 'It will be a challenging yet rewarding role and I'm looking forward to meeting communities in Worcestershire'.
October 2021
Annual General Meeting
Notice is hereby given that the Annual General Meeting of the Worcestershire Community Rail Partnership will be held on Thursday 16th September 2021 at 10.30 am at 16 Summer Lane, Birmingham, B19 3SD.
Nominations are sought for the Chair and Vice Chair of the Steering Group. These should be sent by e mail together with a CV to Tom Painter, Head of  Rail Franchising and Partnerships, West Midlands Rail Executive by e mail Tom.Painter@wmre.org.uk by no later than Monday 13th September 2021. If any person wishes to attend the AGM they should also notify Tom Painter at  the West Midlands Rail Executive.
On behalf of Worcestershire Community Rail Partnership
William Whiting
Chair
Dated this 28th day of August 2021
No feed found with the ID 1. Go to the All Feeds page and select an ID from an existing feed.