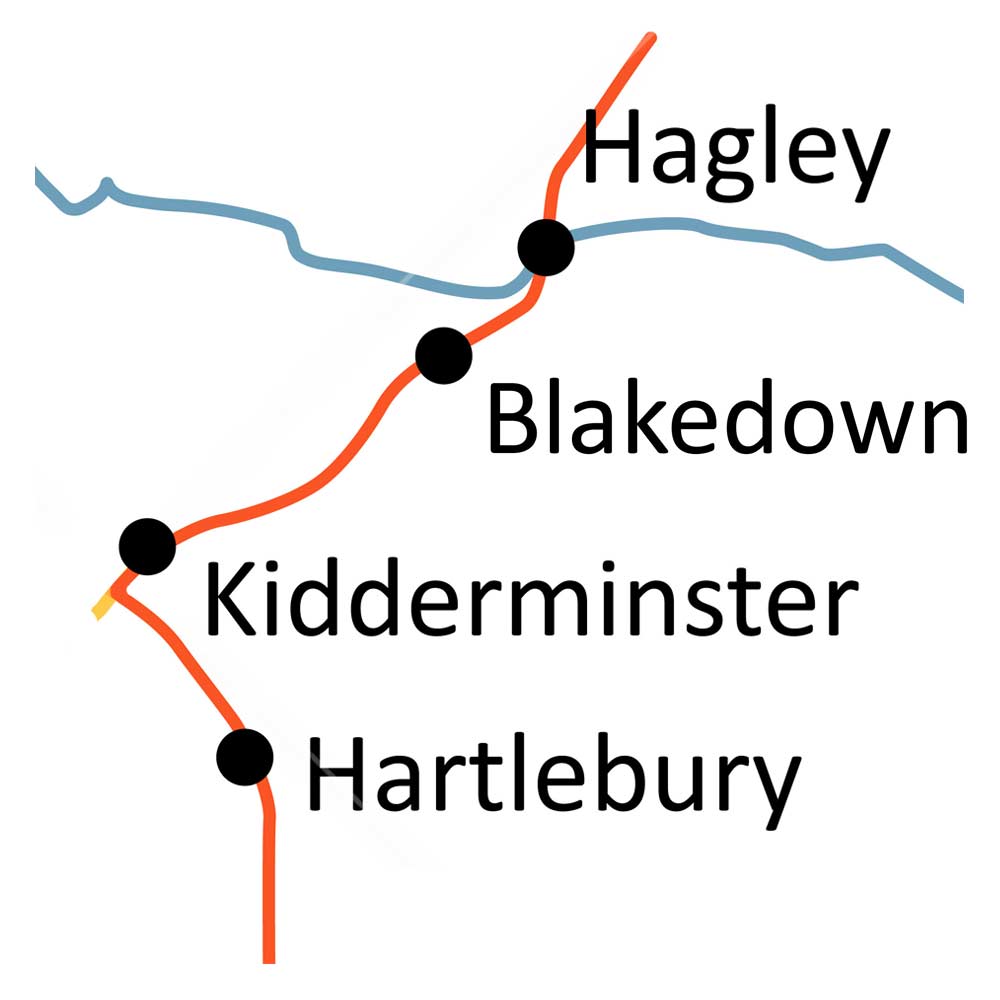 The line from Hagley to Droitwich Spa forms part of the route from Great Malvern to the West Midlands.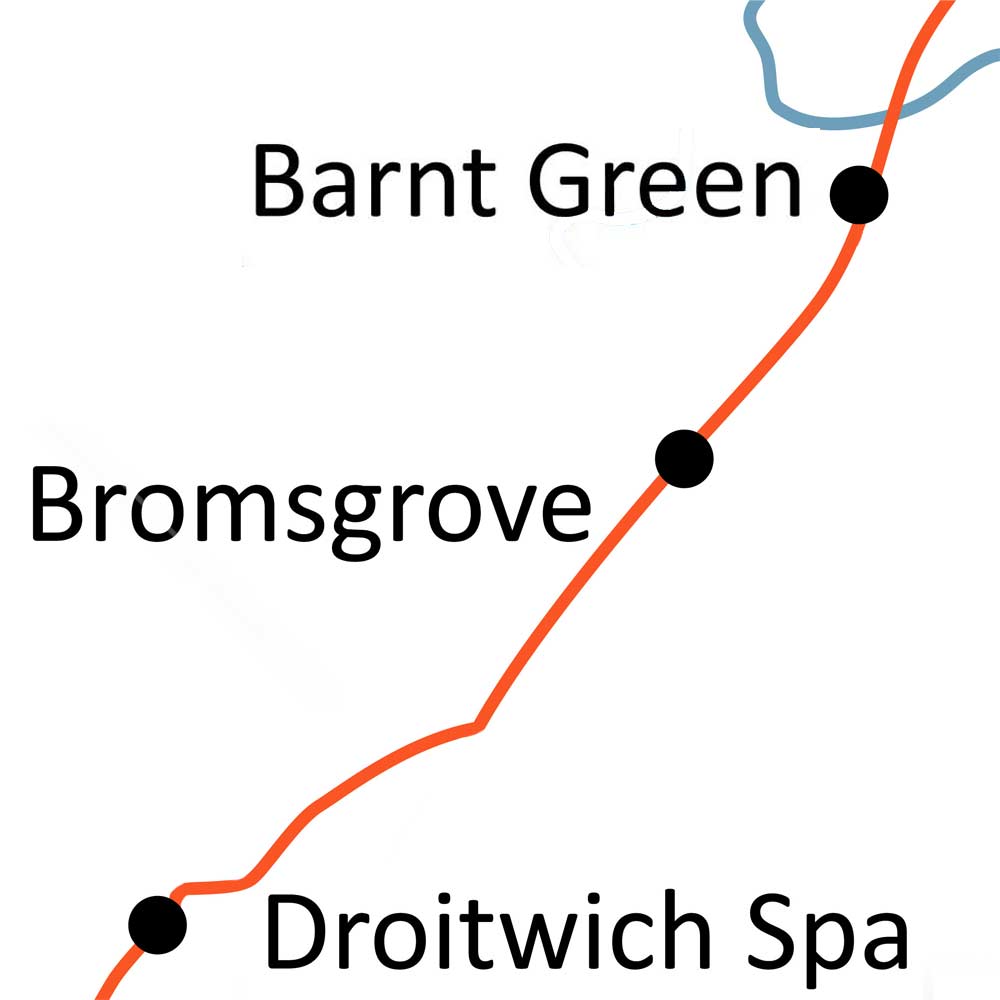 The line from Barnt Green to Droitwich Spa is part of the Worcester to Birmingham New Street route.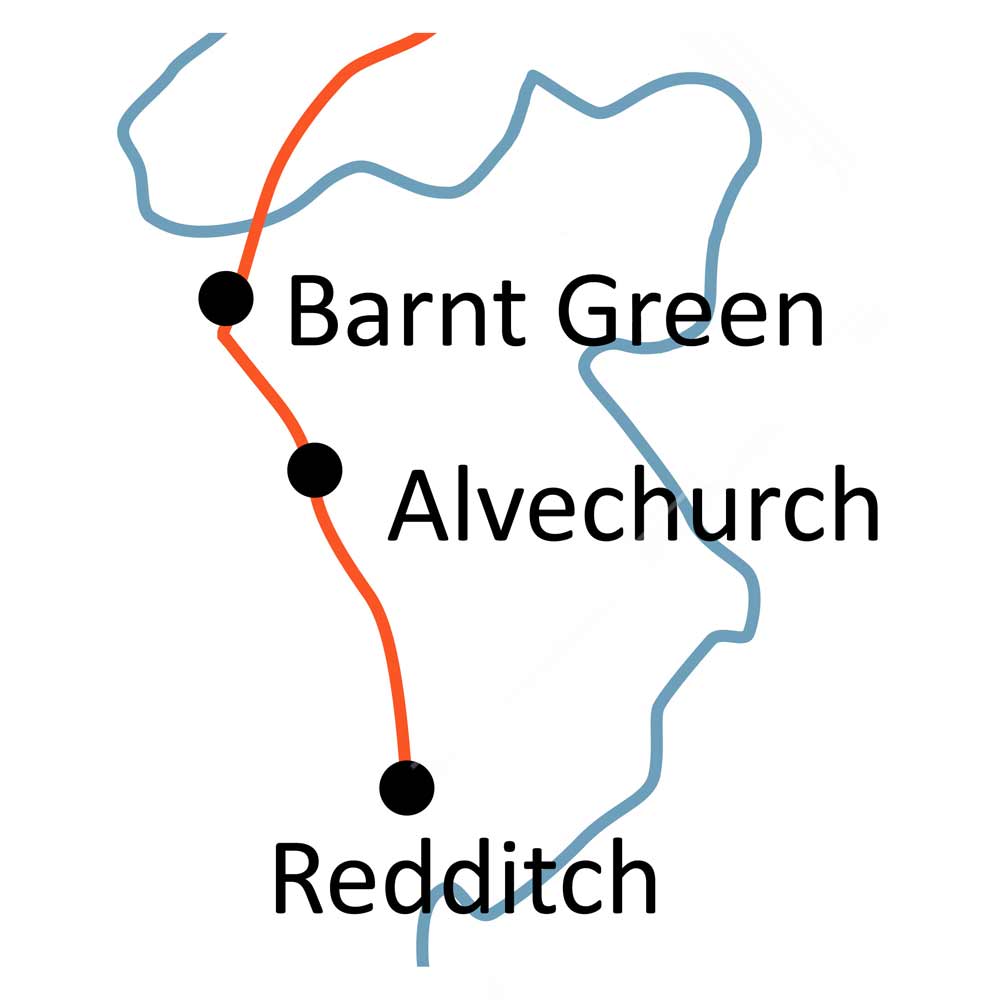 The line from Barnt Green to Redditch is part of the CrossCity South commuter network.
Worcestershire Community Rail Partnership have announced the three winners from their Name the Line competition.
The line to Droitwich Spa via Bromsgrove to Barnt Green was named by Sue Lloyd and her winning suggestion was the Saltway Line. The Wyre Valley Line was named by Peter McNougher and covers the route serving the towns of Hagley, Blakedown, Kidderminster and Hartlebury. Last, but by no means least, is the line including the stations of Barnt Green, Alvechurch and Redditch which has been named the Arrow Valley Line by Margaret Evans. The winners were announced at Worcester Guildhall during the Rail Partnership's second Anniversary event on Friday 12th November. They received a commemorative memento from Alan Amos, Worcestershire County Council Cabinet member for Transportation.
Colin Major Vice Chair Worcestershire Community Rail Partnership said, "We are delighted that all 18 stations in Worcestershire are now linked to named lines enabling the Community Rail Partnership to promote travel by rail and the stations not only to the local communities, but also to attract visitors to the businesses and places of interest served by the lines."
The Worcestershire Community Rail Partnership are working with local communities to create Station Adoption Groups of volunteers who enhance station environments and build local pride in the facilities. One of the latest groups is the Friends of Droitwich Spa Railway Station who started in May and have already cleared and planted flowers in the flower beds and have exciting plans to make the station a more warming and friendly environment to catch a train.
The Worcestershire Community Rail Partnership was pleased to take part in the laying of a wreath on a Hereford to London Paddington train on the 11th November at Worcestershire Parkway Station.
Pictured on Platform 3 is William Whiting (Chair) Colin Major (Vice Chair) and a member of staff from GWR. This was part of our commitment to engaging with the railway community.
November 2021
WCRP welcomes new partnership officer

Fiona Saxon has taken up the role of Worcestershire Community Rail Partnership Officer following her predecessor's retirement. She has been involved with engagement work for over 20 years, working with business, communities, charities and tertiary education to facilitate partnerships and enhance community involvement. Fiona has worked for diverse industries such as shipbuilding, banking, electronics and with government and the voluntary sector. This has provided her with an insight into many different working practices and objectives.
Fiona believes wholeheartedly in life-long learning and has recently completed a BA in History after taking time out of the workplace to fulfil a long held ambition.
She is particularly keen to bring railway stations into the heart of the communities they serve providing opportunities for residents to take ownership of the area they live in and thus help to shape their future while promoting sustainable travel.
Working with residents, volunteers, stakeholders and rail and station staff, Fiona will support them to create environments that are welcoming, vibrant and conducive to regeneration. 'It will be a challenging yet rewarding role and I'm looking forward to meeting communities in Worcestershire'.
October 2021
Annual General Meeting
Notice is hereby given that the Annual General Meeting of the Worcestershire Community Rail Partnership will be held on Thursday 16th September 2021 at 10.30 am at 16 Summer Lane, Birmingham, B19 3SD.
Nominations are sought for the Chair and Vice Chair of the Steering Group. These should be sent by e mail together with a CV to Tom Painter, Head of  Rail Franchising and Partnerships, West Midlands Rail Executive by e mail Tom.Painter@wmre.org.uk by no later than Monday 13th September 2021. If any person wishes to attend the AGM they should also notify Tom Painter at  the West Midlands Rail Executive.
On behalf of Worcestershire Community Rail Partnership
William Whiting
Chair
Dated this 28th day of August 2021