Worcestershire Community Rail Partnership
Connecting stations to their communities

Worcester Access Map 2023
Our Worcester Access Map is now available.
The map contains information on the best walking, wheeling, cycling routes for people with hidden and visible disabilities.
It is available either as a download from this website, or as a printed copy.
We hope the map will encourage Worcester visitors to use sustainable forms of transport – such as rail – to both access, and move around, the city.
It has been created by WCRP with funding from GWR. We worked in partnership with the University of Worcester and Gloucestershire Community Rail Partnership (GCRP) to produce a valuable resource for visitors to the city.
Students from the University received training and guidance from GCRP on how to walk the routes collecting data which was sent to the designer for input onto the map.
Community Champions Award for WCRP 2023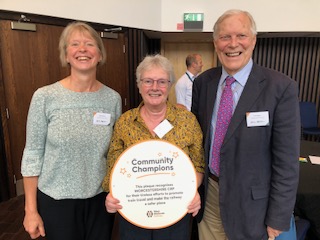 Community Champions Award for WCRP 2023
WCRP is delighted to receive an award from WMR for our work to keep young people safe in Worcestershire. Our film 'Which side of the Tracks' has inspired partners to create a range of resources to help schools, train operators and youth workers prevent children being exploited by criminal gangs.
WCRP took part in a Safer Communities Day at Christopher Whitehead Language College and Sixth Form earlier this year where the film was shown to 250 pupils followed by discussion on the main themes. Platform, our rail education scheme, also offer classroom based activities on their website here platformrail.org/resources/which-side-of-the-tracks.
WCRP Vice Chair, Colin Major said "I am delighted that this collaborative work between the West Midlands Safer Travel Team, West Mercia Police and West Midlands Railway lead by our WCRP Partnership Officer Fiona Saxon has been recognised. The video is available to anyone who can alert young people to the dangers of County Lines and to assure them that help is available."
Which Side of the Tracks
County Lines Video Released
New resource aims to prevent child exploitation by drug traffickers
A new video resource to help schools, train operators and youth workers prevent children being groomed and exploited by drug trafficking gangs has been released.
This video is a resource to help schools, train operators and youth workers prevent children being groomed and exploited by drug trafficking gangs.
Exploitation of children and vulnerable adults in this way is recognised as modern slavery and perpetrators can be prosecuted for forcing their victims to sell drugs.
Known as 'County Lines', gangs and organised criminal networks move illegal drugs and weapons from one area to another using dedicated mobile phones lines.
They groom children and vulnerable adults to assist them with this by using coercion, intimidation, and violence.
The video has been developed in partnership with Worcester Cathedral, Platform, the Clewer Initiative, Mothers' Union and Worcestershire Community Rail Partnership (WCRP).
New Film – Take the train to Worcester
Take the train to Worcester for a fabulous day out.
Discover how much Worcester has to offer with this brand new film, with GWR and WMT.
Students develop new concept designs for Worcs Rail Trail Projects – June 2023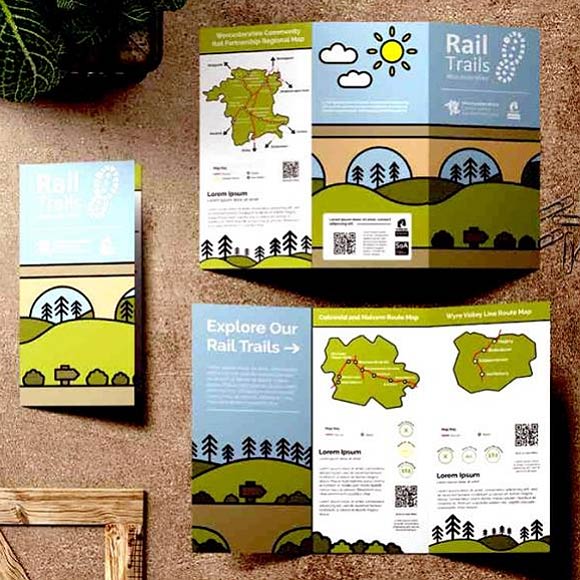 A unique collaboration between students at the University of Worcester, a regional railways community development organisation and the Worcestershire Ramblers has just produced its first set of concept design work.

Year 2 Graphic Design students on the 'Graphic Information Design' module have just submitted a wide range of concept designs for an overview leaflet for Worcestershire Community Rail Partnership (WCRP). This explains the new 95 mile long 'Worcestershire Rail Trails' project, which allows users to walk between stations in the region and then return quickly by train to their start point. One or more students' designs will be picked for use for marketing the scheme.
Students were set the 'live' brief in early February by Rail Trails project team members Lyndon Bracewell (instigator of the project and representing Worcestershire Ramblers) and the University of Worcester's Senior Lecturer in Graphic Design, Andy Stevenson.
The aim was to give students experience of working to a 'live' design brief of this nature along with the pace, interaction and steer of real clients including WCRP's Partnership Officer Fiona Saxon.
WCRP latest Line Guides released
Four Line Guides have just been released.
Why not download these to explore these lines and discover great places to visit?
The Hills and Beyond – New book now available
The Hills and Beyond by Train
– The Malverns & Herefordshire 
We have been working with Beyond the Hills Community Station Partnership on a book about the Malvern Hills and we are delighted to announce that it's now available.
The Hills and Beyond is a collection of essays offering the reader an insight into the diversity, geography and history of the hills and towns.
It is an eclectic collection of writings for the discerning traveller by train through this beautiful and historic part of central England leading into the Welsh Marches.
It can be used as a companion guide when travelling both to and through the region by train.
If you would like a copy of this book posted to you, please contact the Partnership Officer, Fiona Saxon, using the Contact page by clicking here. Please allow 21 days for delivery.
You can also download a free copy of the PDF version of this book by using this link:
Download the Hills & Beyond book PDF here
Building links
within the County of
Worcestershire
Embedding stations within the communities that they serve
Working with communities to enhance their local stations
Engaging with businesses and organisations within the County
Worcestershire Community Rail Partnership has been established to enable local communities to work with the three Train Operating Companies to improve the 18 stations within the County.
What are the benefits of the Worcester CRP?
Engage with communities to improve station facilities and encourage support for rail use.
Encourage Station Adoption Groups to enhance station environments and build local pride in the facilities.
Improve station accessibility through sustainable travel plans.
Support links between the stations and local businesses.
At its heart, community rail connects communities, schools, businesses, charities and organisations in enhancing and improving local rail services.

This community rail partnership is a member of the Community Rail Network. Everyone works together for a common goal, to make local rail more sustainable, economical, enjoyable and safe. Read an overview of the role community rail partnerships will play to support our communities' and railways' recovery, and help to 'build back better' 
The partners financially support our work to meet these mutually beneficial aims of increasing passenger numbers and putting something back into the local communities.
>>> Read more about all of Our Partners here …
Join Us
Get involved with your local railway through the new Worcestershire Community Rail Partnership (CRP).
You are are all invited
Communities, businesses and tourist attractions and individuals are all invited to work with the rail industry and local councils to promote rail services across Worcestershire.