Evesham station serves the town of Evesham – the 'Small Town with a Big Heart' – in the Wychavon district of Worcestershire.
This historic market town grew up around Evesham Abbey, which, in its heyday, was the third largest in England. The Battle of Evesham took place in 1265, whilst the town was occupied by both Royalist and Parliamentarian supporters during the Civil War.
The station is staffed and is situated on the Cotswold Line between London and Hereford. The station was opened in 1840 and retains buildings on both platforms from the era of the original Great Western Railway. The current operator is GWR (Great Western Railway).
Level access is available to both platforms thought the ramp to Platform 2 (London bound) runs from Worcester Road.
The station gardens and planters on the platforms are looked after by the Evesham Station Gardens Project (a member of the Community Rail Network) which works closely with the Cotswold Line Promotion Group.
The main garden lies on unused Network Rail land behind Platform 2. Although not open to the public it is easily seen from the ramp access to the platform. The Cotswold Line Promotion Group actively promotes the use of the station and of the services which run from it.
Possible CRP supported coach link on Bank Holidays to the GWSR at Broadway.
Why not join us?
If you would like to be involved with your local station, then do get in touch below.
Get Involved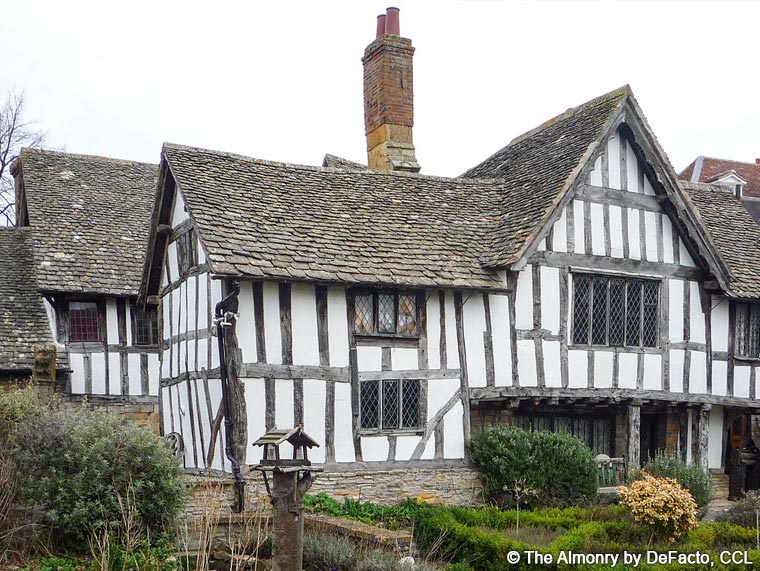 The Almonry, Evesham
Transport links
Astons Coaches 540 Evesham – Tewkesbury / 564 Pershore – Evesham circular
Diamond Buses 247 Evesham – Redditch
First Worcestershire X50 Evesham – Worcester (from Town Centre)
N N Cresswell 582 Evesham Town Circular / R4 Evesham – Broadway – Willersey
Stagecoach X18 Evesham – Stratford
All the above services stop on the main road outside the station. Other bus routes serve the town centre (10 mins walk away).
Businesses local to the station (a selection all serving food)
B4UGO cafe – platform 1 at the station (n.b. closed at present as original owner has moved away)
M&S Simply Food – opposite ramp exit from Platform 2
There are many more businesses in the town itself (around 10 minutes walk from the station)
Tourist destinations within reach of the station
Almonry Museum & Tourist Information Centre
The Evesham Vale Light Railway – X18 bus then walk
Broadway village and Broadway GWSR station – R4 bus from Evesham station
3rd Party Websites Disclaimer
Please note links to other third party websites are used to provide further information, and are not intended to signify that WCRP endorses such websites and/or their content.
Links to external, or third party websites, are provided solely for visitors' convenience.
Links taken to other sites are done so at your own risk and WCRP accepts no liability for any linked sites or their content. When you access an external website, keep in mind that WCRP has no control over its content.
Occasionally these links can be changed by the 3rd party, please let us know if you notice one.